Nutrition & Healing
THE FOUNDATION OF SELF HEALING
NUTRITIOUS FOOD AS NATURAL MEDICINE
In today's world there are more available food choices and numerous different types of "diets" to choose from than ever. It can be quite difficult to know what is the right way to eat for you when it comes to health and nutrition. Here at Living with The Spirit we adopt a simple yet highly effective approach to living foods, the focus being restoration and healing of the physical and emotional body. Easy to digest foods full of nutrition is the most powerful and simple way of eating. When we maximize the intake of healthy nutrition, and spend less time on breaking down foods, we arrive on a surplus of internal energy. This energetic vitality can then be used in other areas of the body for either detox or healing. This is how food can be your medicine.
FRUIT, RAW FOOD, AND HOMEMADE COOKING
When we are looking for food to restore and heal the entire internal system of the body no other diet has the profoundly beneficial effects of the raw food and raw fruit diet. It embodies the combination of highly dense nutrition and easy digestion. It is the epitome of energetic efficiency when it comes to taking care of nurturing the body as a whole. In today's society we have started to lose touch with natural unprocessed foods and have instead incorporated nutritionally empty and processed foods. This does not support our well being and happiness. When we revert back to a raw diet with fruits and foods packed with nutrition our body can begin to restore itself.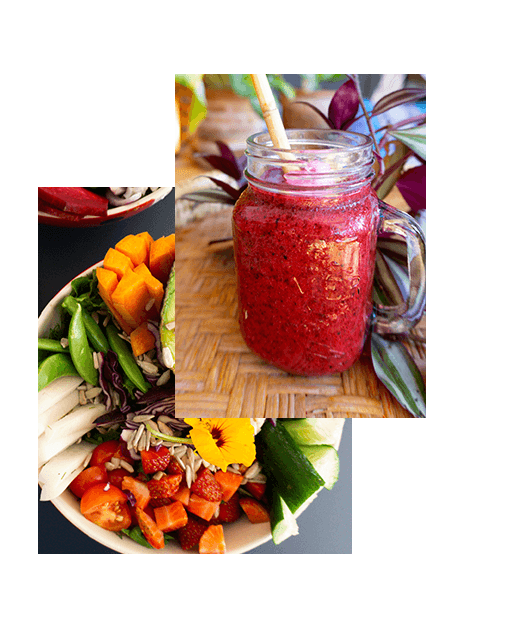 DETOXIFICATION, NUTRITION AND MINDFULNESS
Detoxification is a hot topic that is becoming a more popular lifestyle choice. It is a powerful process that if correctly understood has huge healing potential and restorative benefits for the body and even emotional states. There are many levels of detox from restorative juice fasting, an all fruit diet, and the more gentle raw food diet. Once we choose any of these diets or fasting protocols we automatically begin to remove toxicity from the body. As we alkalize the body from high acidity levels we can start to generate new tissue. When you stay with us or do one of our online detox programs we go deep into the process of detoxification both theoretical and practically. 
Here at Living with The Spirit we believe that mindfulness is a major practice in today's modern society. To stay healthy, keep away from stress and negativity, we need care for our mind and emotional states as much as our physical body. Mindful eating and breathing are examples that bridge all these three components together and go hand in hand with nutrition and health. This means food choices as much as when and how to eat. When we begin to bring this outlook of self-care and dedication towards ourselves we can truly begin to heal. When we put all these pieces around health and nutrition together we make food the most beneficial, useful, natural, and powerful medicine available.
LEARN HOW TO MAKE FOOD MEDICINE WITH US!
Come stay with us for a full raw diet, restorative detox, and personal transformation experience. Or join us for your personal Online Detox Program. Book a free consultation and we will be happy to answer any questions you may have.
METHOD
All our programs are individually created and we use a vary of different tools based of your needs.
We are studying with Dr. Morse and we are using his detox philosophy in how to heal and regenerate your body and energy.
We use this form of detox to revitalize organs and your inner system, release stress and to access stored emotional and energetic blockages.
Abdominal pressure points and energy massage for aiding organ functions, blood flow, releasing energy and emotional blockages, improving gut vitality and GI functions.
The main point of detoxification is to remove or at least reduce your regular intake of food. Most often this is combined with focusing on consuming some form of liquid.
HERBS & TINCTURES
To enhance the detoxification process we use herbs, tinctures and different protocols and we can use locally grown or specialized products.
The detoxification process can unlock deep emotional blockages and we will give you the tools needed for coping and find new perspectives.
Tension & Trauma Release Exercises is a series carefully selected exercises  and used as a natural stress release in order to cope with pent up energy in our nervous system.
Reiki is a Japanese technique for stress reduction and relaxation with life force energy that promotes healing.
HOT & COLD TREATMENT
Boost your immune system, improve your health, relieve stress, move stagnant energy and get better sleep.