Physiotherapy & Injury Healing
OUT WITH THE OLD – IN WITH THE NEW
WHAT PHYSIOTHERAPY LOOKS LIKE
Injuries can be anything from milder occurrences as a bruise to a broken bone. Depending on the severity of the injury we will be challenged with different approaches to mend the sound. At Living with The Spirit we focus on the holistic aspect of your lifestyle meaning that we make sure that you get the highest quality in food, a physiotherapeutic program carefully tailored to the severity of your injury, and the proper overall care to promote circulation and healing for your entire body. We start by carefully assessing your current whereabouts and gradually reassessing your progress to make sure that you are progressing in your healing journey. When we are injured we are presented with the opportunity to have a break where we can reflect on our current life path and make necessary changes to come back healthier than before the injury.
Physiotherapy or "physical therapy" is the treatment of disease, injury, deformity, or disability to improve the quality of life. Physiotherapy uses exercise, hands-on technique, client education, and various modalities as a means to heal individuals. It has the purpose of strengthening and stretching your muscles gradually to the point where we can begin to return to everyday activities without or with reduced amounts of pain or physical resistances.
The most common area to start is with the core since it is a central hub for the rest of the body's stability. Flexibility is needed for the general ability to enter a position, stability to hold any given position, and posture which is the beginning and end of any movement. At Living with The Spirit we always start by accessing your current situation, core stability, flexibility, and posture to progress you forward.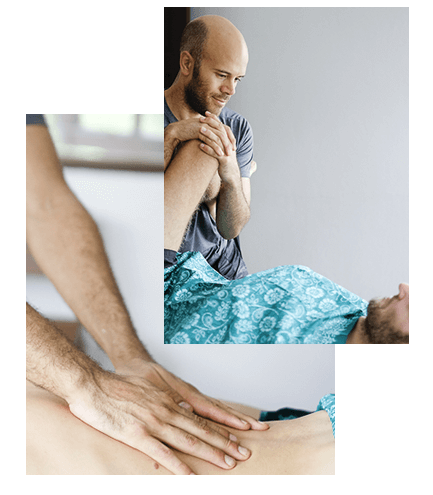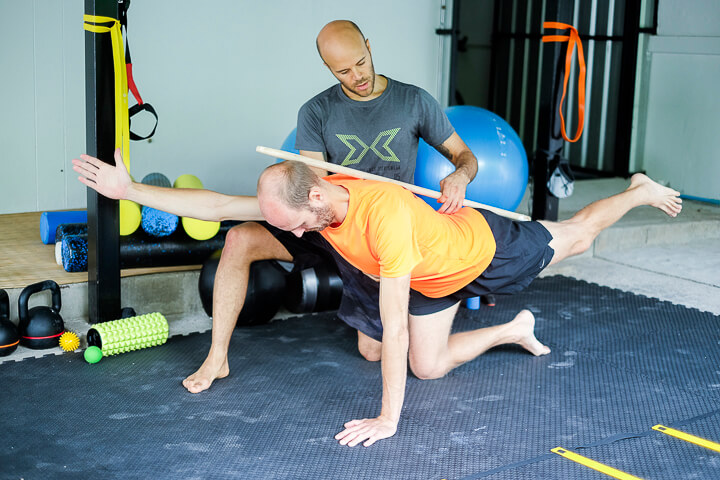 Are you moving your muscles poorly because of pain? Or are you in pain, because you move your muscles poorly? Regardless of the reason corrective exercises carefully selected in order to serve your purpose will definitely lead you towards a healthier and stronger body. A good Posture is crucial as it is the foundation of any movement in our daily life. Flexibility is important since it prevents muscles, tendons and fascia from tearing as we move. Stability is important for all of our joints as this helps to dissipate and transfer weight and power to our most sturdy structures in the body with the least amount of injury. Mobility is the mix of stability and flexibility, where we are agile yet sturdy in our movement patterns. Once we have a good posture and mobility we can start to add more performance based training as everything is connected and working optimally in our benefit regardless of the endeavour we choose to engage in.
IN NEED OF PHYSIOTHERAPY FOR YOUR INJURY?
With a custom-tailored program for your needs and injury history, you can become stronger, healthier, happier, and with an increased quality of life towards a better and more pain-free way of life. Book your free consultation with us today and we can get started in bringing you a healthier lifestyle.