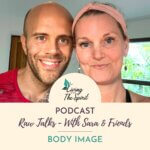 Today on Raw Talks I have Simba as my guest as we are discussing body image from a healing perspective. As we are exploring different paths in our own healing journey we both come across body image and the way we view ourselves, from a social perspective, from an ego perspective, and from a healing perspective.
Simba is my guest today as he is on a 40-day grape fast and is experiencing big shifts in the physical body, and how it is connected to the emotional and spiritual body.
Join in on the conversation and ask questions!