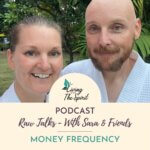 Tune in with Sara and Mark today in the discussion of money frequency and the art of abundance.
What is abundance and what does it mean? How do we unlock money frequency to the unlimited abundance?
We are discussing how to consciously invoke the frequency of money abundance to flow through with a good intention of money positively affecting your life and the lives of those around you.