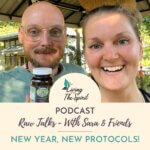 Hop on the juice train of 2022!
After delighting in life's blessings for a while, we are ready to enter into a new year and new healthy routines.
In this session, we'll go under our juice and herb protocol for the next few months. We'll also share juicy emotional insights from our holiday adventures.
Keep watching and learn with us on how to start joining the juice ride as well as ask your questions about detox or emotional work!