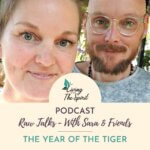 Tune in with Sara and Mark on how to enjoy the tiger energy through the Tiger Year!
Tiger Year is a time for unlimited creativity and seizing opportunities, but it is also a time for emotional outbursts. So it is best for us to remain aligned this year so that you can avoid negative social drama and focus on the blessings and pouncing opportunities.
Tiger Year also represents boldness, wealth, and success! Join us as we share our thoughts on how to align with the tiger energy in positive ways.
Stay till the end to go along the flow on this Tiger Year.