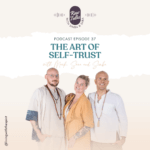 Join us in this thought-provoking discussion as we delve deep into the journey of breaking free from societal illusions and embracing our authentic selves.
In this enlightening conversation, Sarah, Mark, and Simba share personal experiences and profound insights on stepping into one's own consciousness, trusting the inner path, and navigating the complexities of life with courage and authenticity.
Discover the transformative power of somatic work, understand the correlation between inner healing and social interactions, and learn how to create a life rooted in truth and self-discovery.