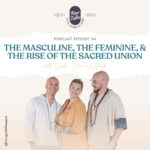 Hey there, today we've got a special episode featuring Sara, Simba, and Mark. We're diving deep into the nitty-gritty of balancing masculine and feminine energies.
We'll explore how nurturing the masculine aspect can create a nurturing space where the feminine can truly bloom. This isn't just about making a one-time choice; it's about sticking to that commitment through daily rituals and keeping your nervous system in check.
Now, speaking of balancing energies, we have something pretty special lined up for you. Coming up in February 2024, we're hosting an event you won't want to miss: Heaven On Earth – The Rise of the Sacred Union.
This isn't just another course; it's a transformative experience. Designed especially for conscious leaders like you, this event is all about exploring balanced relationships in a sacred space—whether you're a couple, single, or just great friends.
And here's the thing, you don't want to snooze on this one. If you secure your spot today, it'll only set you back $222. As the event gets closer, that price is going up. So tap into your potential, and let's create this sacred union together.
https://healthclub.livingwiththespirit.com/sacred-union-course?fbclid=IwAR2Gk6Kpl6AjtamBzsZn758tvMh9xOJtUMRB9n439nsOCDssGa99Kyu2drQ