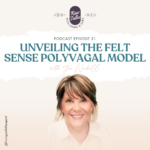 Join us for a podcast episode with MSW Jan Winhall, where we explore the transformative Polyvagal Theory.
Jan's experience in social work and psychotherapy uncovered the link between self-harming behaviors, emotional escape, and potential addiction, detailed in her book "Treating Addiction with The Felt Sense Polyvagal Model."
Jan challenges the conventional narratives of shame, advocating for a compassionate and neuroscientific approach. Safety serves as the foundation for healing, emphasizing individuals' capacity for self-regulation and co-regulation of physiological states.
Jan is an influential figure as an Educational Partner at the Polyvagal Institute, Adjunct Lecturer at the University of Toronto, Certifying Co-Ordinator with the International Focusing Institute, and Co-Director of the Borden Street Clinic. Join us on this empowering journey, stay connected with Jan, and access valuable resources.
—————————————————————————————
Fall retreats at Living With the Spirit are now open for bookings!
Discover the transformative power of our retreats at Living With the Spirit, where you are warmly invited to experience our serene healing center nestled in the heart of Northern Thailand.
-Embark on a journey that will alter the course of your life, allowing the person you've always known deep inside to emerge and thrive.
Within our nurturing environment, you'll find the safety, support, and guidance needed to unlock your true potential. -Unleash your authentic self by conquering the specific challenges that have been holding you back.
Embrace your truth and embrace your fullest potential, aligning your life with your true purpose.
Our retreats provide a dedicated space for you to overcome these obstacles and forge a new path forward.
-Immerse yourself fully in a holistic healing process meticulously crafted to cater to your individual needs. Every aspect of your experience has been thoughtfully designed to facilitate your personal growth and transformation.
By embracing this journey, you will not only heal while in our care but also acquire the tools to continue your healing journey long after you leave, positively impacting your own life and the lives of others.
Join us at Living With the Spirit for a rejuvenating retreat that will nourish your mind, body, and soul.
Your true self is waiting to be discovered and embraced.
Read more at livingwiththespirit.com or DM us to start your journey.
When you DM us, we will assess your situation and find out how we can support you, and there are never any strings attached.
Looking forward to hearing from you!
Many Blessings! /Simba & Sara