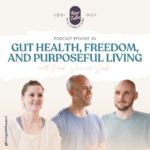 In this episode, we explore the profound impact of gut health on our sense of purpose and freedom. A balanced gut is crucial for experiencing personal and emotional liberation.
Join Sara, Simba, and Mark as they discuss their journeys, revealing how optimizing their gut health has led them to embrace life with authenticity and purpose.
……………………………….
This is your free invitation to our Gut Revitalization Masterclass, where we understand the struggles you face with gut health and are here to guide you toward lasting relief and vitality.
If you've been searching for answers and long-lasting solutions to your digestive discomfort, lack of energy, bloating, and other gut-related issues, you've come to the right place.
By the end of the Gut Revitalization Masterclass, you'll be equipped with invaluable insights and practical tools to transform your gut health and reclaim your life. Prepare to:
-Understand your body's unique language and respond effectively to its messages.
-Confidently choose the right foods for your gut health and overall well-being.
-Embrace a sustainable approach to healing, ensuring long-lasting results.
-Achieve balance in your gut, body, emotions, and spirit for holistic well-being.
Sign up for your free spot here:
https://healthclub.livingwiththespirit.com/gutrevitalizationmasterclass