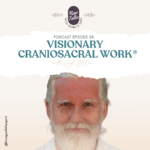 In this beautiful journey, we delve into the art of being a visionary, mastering four equally important aspects with grace and finesse.
First and foremost, it's about perceiving the intricate tapestry of your client's anatomy and physiology and understanding the fascinating interconnectedness that defines their unique being.
But it doesn't end there. A true visionary can also discern the individual pieces that have lost their harmony with the whole, gently guiding them back into alignment, like the missing notes in a symphony being rediscovered.
Visionary Craniosacral Work® goes beyond the physical realm. It touches the depths of the soul, allowing you to witness your client's inner spiritual journey and emotional state with utmost compassion and non-judgment.
And let's not forget about self-awareness, an essential trait for any visionary. Understanding our own inner spiritual journey, emotions, and energy levels without judgment empowers us to connect with others on a profound level.
This incredible modality stems from Cranial Osteopathy, pioneered by the visionary William Garner Sutherland in the 1930s. Hugh Milne, the founder of the Milne Institute, pays homage to all the lineages and teachers that have shaped his life, resulting in the unique and transformative Visionary Craniosacral Work®.
If you're ready to embark on a soul-stirring adventure, we invite you to join us today.
Discover the miraculous power of this approach as it harmonizes your mind, body, and spirit, facilitating deep restoration and healing.
Release trauma, pain, suffering, injuries, and tensions as you reconnect with your true self in the most profound and personal way.
So come along and let's explore the magic together!
/Sending lots of love, Sara & Simba