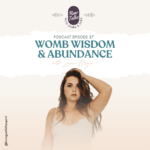 Get ready to be embraced by the loving and nurturing presence of Lauren Megan, a true master of healing and abundance, on this extraordinary podcast episode!
We are excited to introduce you to the incredible Lauren Megan, a mother, wife, teacher, speaker, womb, and somatic trauma healer, as well as a feminine business mentor. Her mastery lies in guiding women to reconnect with their feminine bodies, womb, and pelvic roots, allowing them to anchor into safety and open their receptive channels to wealth, pleasure, and unwavering power in their authentic expression.
Join us as we dive deep into the profound connection between the womb, the nervous system, and abundance. Delving into the mysteries of feminine embodiment and leadership, we discuss the pivotal role of healing past traumas and restoring the balance between the feminine and masculine energies.
Lauren also reveals how unlocking the power of the cervix and connecting with the body can ignite a sense of safety and trust, paving the way for the ultimate experience of financial abundance and true overflow. Through personal experiences and shared wisdom, we'll explore the impact of societal conditioning on money mindset and how healing the wounded feminine-masculine relationship can lead to a harmonious flow of prosperity.
We can all agree – hustle culture and burnout are out! Instead, we're embracing a new path of empowerment and wealth creation. Whether you're seeking to heal old wounds or unlock your innate potential, this episode will guide you towards embracing the profound wisdom within your womb and stepping into the abundance you deserve.
Tune in to this empowering podcast and embark on a transformative journey of healing, self-discovery, and financial liberation. Get ready to rise with the divine feminine as Lauren leads you towards creating the life you've always envisioned – impactful, wealthy, and turned on.