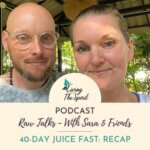 The Recap & The Future
We are getting more personal and raw than ever before.
Our 40-day juice fast has come to an end, and today we share the summary of all the benefits from the fasting experience and share our future protocols for staying grounded.
We also discuss how some emotional shifts occur during the fast and how we work on overcoming food addiction.
Tune in and learn, how to maintain a healing and healthy lifestyle while achieving balance.