Hello, we are Sara and Simba
Together we have decided to leave our old lives behind and go on a quest for happiness, love and healing. By finding our true selves and creating the life and lifestyle we always wanted we are able to share our space and put full focus into your physical, spiritual, mental and emotional healing.

Our intention is to create a harmonious and peaceful space for our spiritual practice, physical healing and our energy work. We are creating a holistic community with the tools needed for a healthy and active lifestyle. We provide a safe space for your transformational journey whether it is spiritual, physical, emotional or mental.
We use ancient eastern way of mind-body-soul philosophy together with a modern sport medicine approach, behaviour psychology, anatomy, physiology and fascia studies to bring a complete holistic view on your health. We merge the old and new in a sustainable way to make you have natural as well as useful tools and habits along your way in life.
We believe in an organic, non-processed, plant based diet free from sugar and gluten. A mix between raw food and lightly cooked food. We also practice intentional cooking to put positive energy into the food and the ambiance around eating in general. It makes for a delicious extra spice!
We experiment with herbal organ healing through Traditional Chinese Medicine, herbal tinctures, and natural herbal medicine. Depending on where you are in the healing process we use these form of treatments to boost and clean the organs back to their natural working state. Working from the inside and out to give you the energy needed to make the changes you are looking for.

Our daily practice includes energy work, meditation, yoga, functional movement classes and we set the intentions of reaching a high vibration of heartfelt fun. We believe in the conscious work of remaining in "high spirits" as a natural state in everything we do. This is all more easily realized through our community and the ability to integrate your work at a deeper level in this environment. Come join in on the fun!
Chiang Mai is a 13th-century ancient city of the Lanna Kingdom with over 700 years of history. In here you will certainly see the spiritual side of Thailand, as there are over 300 Buddhists temples in the city. Chiang Mai is a city of culture and tradition in transition. It has a distinct culture (of the Lanna Kingdom), with more temples than any other cities in Thailand, and has a lot of historical sites including portions of an old city that are still intact. Known as a "city of healing", Chiang Mai is acclaimed as a spot for resting both body and mind making it a popular spot for people who is in need of rejuvenation and any kind of healing. Part from the more than 300 temples in the city there are a high number of different practitioners of both traditional and alternative healing methods.
Chiang Mai lies in a valley surrounded by wood hills of great beauty. Doi Inthanon, Thailand's highest peak reaching 2,565 metres (8,415 ft), is located in Chiang Mai province and it is actually part of the Himalayas. And with over 50 national parks, Chiang Mai is indeed a paradise for those who enjoy the outdoors.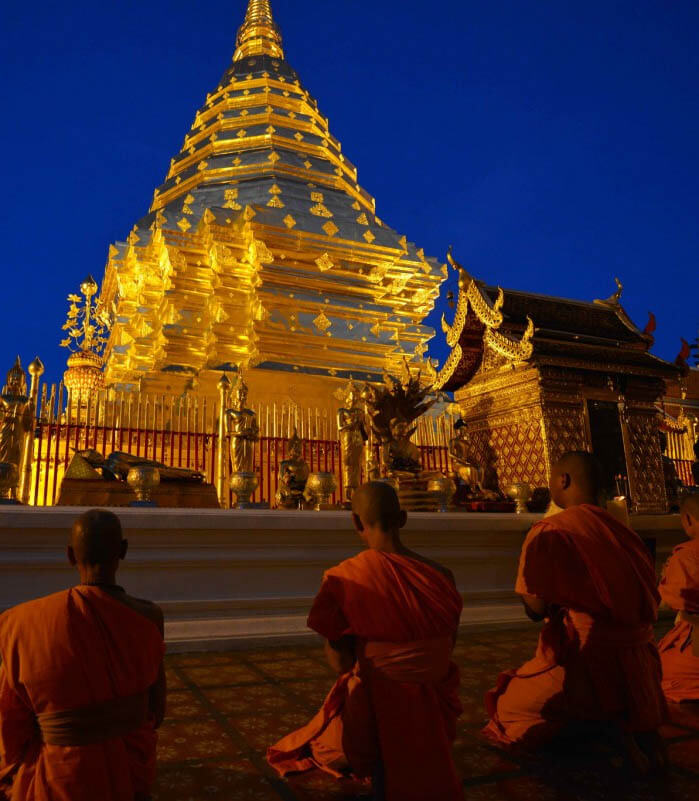 There are at least 10 different hill tribes in Northern Thailand, many of them divided into distinct subgroups. The tribes have sophisticated systems of customs, laws and beliefs, and are predominantly animists. They often have exquisitely crafted costumes, though many men and children now adopt Western clothes for everyday wear. Chiang Mai is also dubbed as Thailand's art capital. With numerous creatives taking up residence here, Chiang Mai has become an extremely artistically and visually rich city to visit. There are over 60 Art Galleries, Museums, Artists Residencies, Multipurpose Art Spaces in Chiang Mai alone.
The former seat of the Lanna kingdom is a blissfully calm and laid-back place to relax and recharge your batteries. Participate in a vast array of activities on offer, enjoy some of the many outdoors activities, or just stroll around the backstreets and discover a city that is still firmly Thai in its atmosphere and attitude.
Simba: Growing up in a family that incorporated western science and eastern philosophies has shaped me to strive after a balance in every aspect of life. From a very young age I focused on the meaning of motivation. What does it mean to be motivated? How do I get there? This lead me on a quest to become a elite athlete within the realms of martial arts, I started this dream at the age of 7 years. It has led me to compete, teach and attending workshops all over the world within a great variety of different martial art forms. But I was never satisfied no matter how far I got. I was driven by external motivation in the form of encouragement that I received from progressing fast within a new martial art form.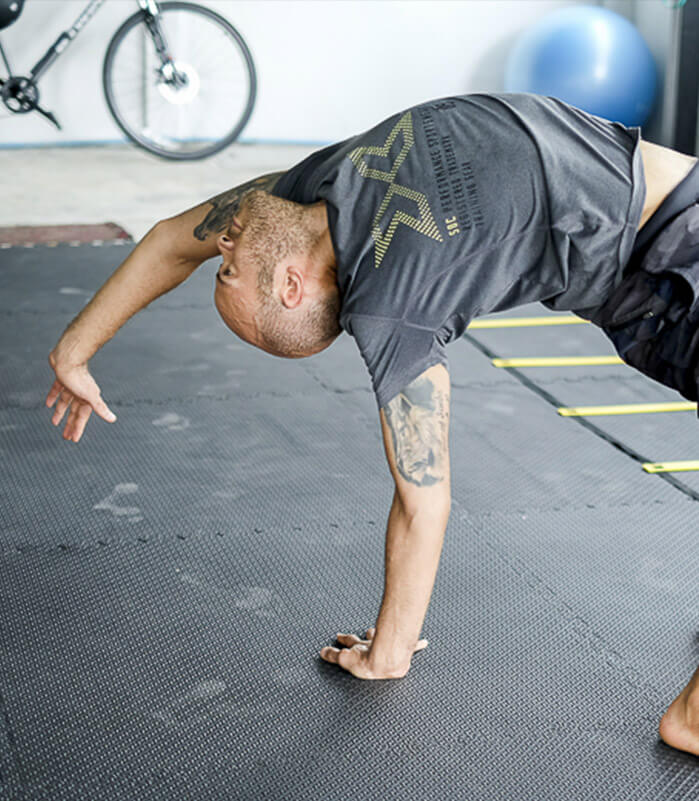 2010 I came in contact with the C.H.E.K. Institute and it changed my life, I started to connect with all aspect of health and look for a sustainable way of life instead of the natural aspect of pushing through any challenge that appears. My life and work philosophy is based on holistic lifestyle coaching values and forever developing a deeper intuitive connection with myself and my surroundings.
2018 I choose to leave my old life behind, sold off everything I owned in order to co-create our Holistic Lifestyle philosophy Living with The Spirit in Chiang Mai, Thailand. My mission is to become the best version of myself in order to shine a light off faith to anybody who needs guidance towards a healthier lifestyle. I use holistic lifestyle coaching, online coaching, manual therapy, energy healing, workshops, seminars and retreats as my main tools to reach my clients goals. Follow my journey and feel free to ask me if something interest you in my story.
Simba's credentials: Holistic Lifestyle Coach, Corrective Exercise Coach, Coach in Behaviour Science within Sport and Fitness, Advanced Manual Therapist, Massage Therapist, Personal Trainer and Performance Coach, Training for different phases of pregnancy.
Sara: 2017 was the year I got up and left my life as I knew it. I decided it was time to find my heart's true path and to do a full holistic health lifestyle transformation. I went to the jungle outside Chiang Mai and spent one year with a shamanic spiritual teacher. This year of healing gave me not only true guidance, knowledge and wisdom but also friendship, experience and many helpful tools.
To fully complete my lifestyle transformation I am currently focusing on a Holistic Detox Program, strengthening my body from inside and out. For a long time a have had issues with hypothyroidism which has led to low energy levels and reduced organ functions. To truly deep dive into physical healing I use Iridology, Fasting protocols, Holistic Lifestyle Coaching, Therapeutic Treatments and Athlete Maintenance.
Through deep work I have found not only who I am beyond fear, blame and judgement I have also found the true passion of my life, my happiness and my freedom. Being happy is a choice and I have found my recipe. It is a true balance between taking care of my spiritual body as well of my physical, using the pillars and elements we believe in I have gotten to know myself and what I need to do to create a sustainable energy. I work towards inner silence, high energy, high vibration, a strong healthy physical body, plant based mindful diet and a lifestyle that enables me to put my well-being first and to live full with happiness and love. My coaching is based on the shamanic teachings and tools I have gathered during my years of practice and through my own healing journey. I use Iridology, nutrition habits and detox to heal myself and my clients.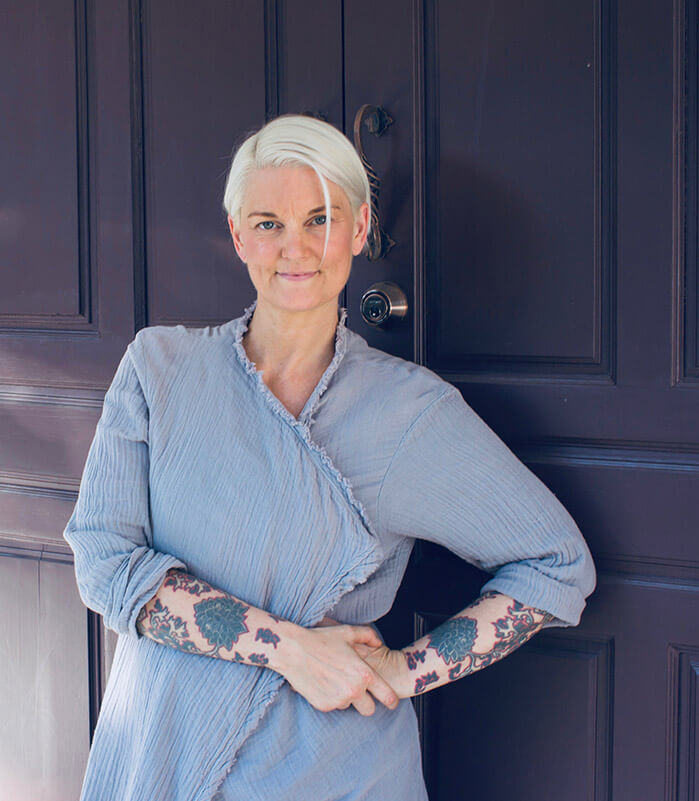 Sara's credentials: Shamanic tools and teachings, Iridology practitioner, Basic Physical Trainer Education, Media, Communication and PR – University of Gothenburg, Board of Directors Training and board work, Mentor – School of Business, Economics and Law, Business & Organization Consultant, Account Director – Digital Media & Marketing, Digital Project & Production Manager, Event Marketing & Event Project Manager.
Lifestyle Coaching in Chiang Mai or Online.
We start off our lifestyle coaching with an initial consultation. During the consultation we get to know each other better and together we create a suitable plan based on your individual needs. Come visit us in at our center in Chiang Mai or book your consultation online.

Whether you choose to work with us regarding one area or all of the above you can choose to sign up for one session or commit to longer programs. You can choose to work only with one specific part in any of our programs or incorporate several aspects to enhance your health. One session lasts about 60-70 minutes, at the end of each session you will get some advices and/or a email summary sent to you depending on your needs. We offer single sessions or packages of sessions, you can choose from 1, 6, 12 and 20 sessions
Our 'Welcome package' includes 5 sessions and is optimal for you who are looking to get started within the holistic way of life or if you have limited amount of time to work with us. This package usually lasts about 1 month with 1-2 sessions per week and serves as a good base for your future practice.
In our Welcome Package we include :

5 sessions of your choice.

1 initial assessment for the best suitable starting point of our work together.

1 Customized Holistic Practice Plan.
Our Deep Dive package includes 10 sessions and is suitable for you who are looking go deeper on your health journey. This package usually lasts about 2-3 months with 1-2 sessions per week. This comprehensive package allows you to look deeper into your current lifestyle and what changes can be made to create a stronger, healthier, and more vital version of yourself.
In our Deep Dive Package we include:

10 sessions of your choice.

2 assessments for the best suitable for our work together.

1 Customized Holistic Practice Plan.

1 Assessment Follow Up.
Our Lifestyle Package includes 20 sessions and is suitable for you who wish to immerse yourself in a complete lifestyle transformation package. This package usually lasts 3-6 months with 1-2 sessions per week. With this package, we can make lasting changes as we have time to look at any part of your current lifestyle or go deep into your wishes about how you want your life to be.
In our Lifestyle Package we include:

20 sessions of your choice.

Our full Holistic Health Evaluation.

2 Customized Holistic Practice Plans.

2 Assessment Follow Ups.