Spiritual Swordfighting
MASTER THE SWORD, MASTER YOURSELF
WHAT IS SPIRITUAL SWORDFIGHTING?
Spiritual Swordfighting is a therapeutic modality for building the courage to defend your boundaries, protect your energy and step into the power of your subtle personal control. We combine the ancient arts of sword mastery along with spiritual practices and trauma informed coaching to guide people on an unexpected journey of self discovery. If you are on a path of recovery, self reflection or looking to experience something unique,
spiritual swordfighting could be a new way for you to connect and explore your feelings, emotions and beliefs.
PRACTICING SPIRITUAL SWORDFIGHTING
Our practice is recommended for people who may have never explored martial arts but have always been curious. We guide people through using swordfighting techniques as a vehicle for exploring your inner self.
(Experienced martial artists are welcome too).
In the sessions, we will explore how you flow and react to the following concepts: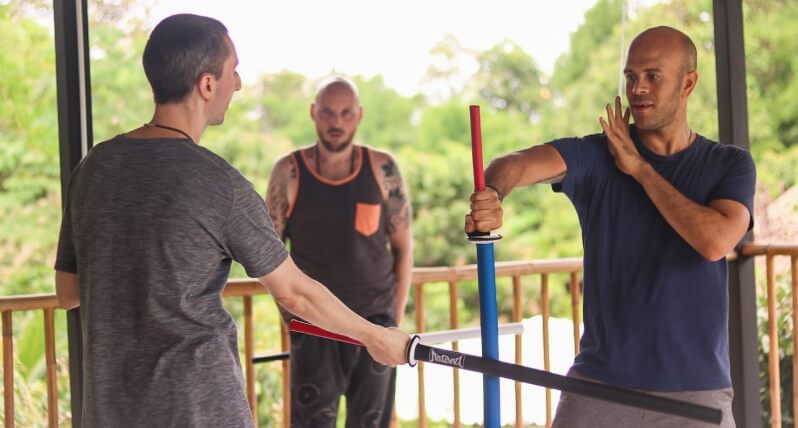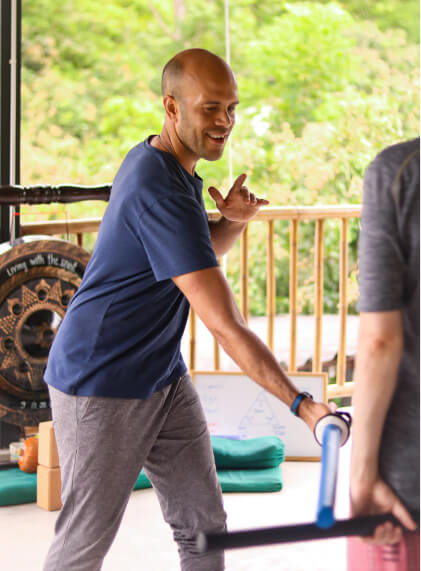 Our highly trained staff provide a safe and grounded experience for you to explore the use of the sword through exercises and drills that build your confidence while slowly leading you towards using your intuition to defend and even engage in some light sparring. 
Together with the swordfighting, we will explore our minds, emotions, thought patterns, limiting self beliefs and use the practice to break free from negative self imposed ideas.
Ultimately, the goal of Spiritual Swordfighting is to acquire a zen-like state, neither being affected by your opponent or by your own mental chatter, but perfectly flowing and reacting in a mental state of peace and calmness while still maintaining control of yourself and your movements during a "sword fight". On a deeper level, we realize that life itself is like a battle ground and the lessons we learn while holding the sword translate to our ability to hold peace in day to day life.
The sword is an extension of your inner being. Do you wield it in peace? In offense?
Or can you simply manage yourself in a grounded manner redirecting energy coming towards you?
We take safety and accountability in the highest regard and have developed techniques and practices that have a proven record of success to minimize any potential harm. We use practice-ready swords that are soft but still retain a sword-like feel and weight. With years of experience in martial arts and martial arts instruction, our trainers will make sure that safety is the priority.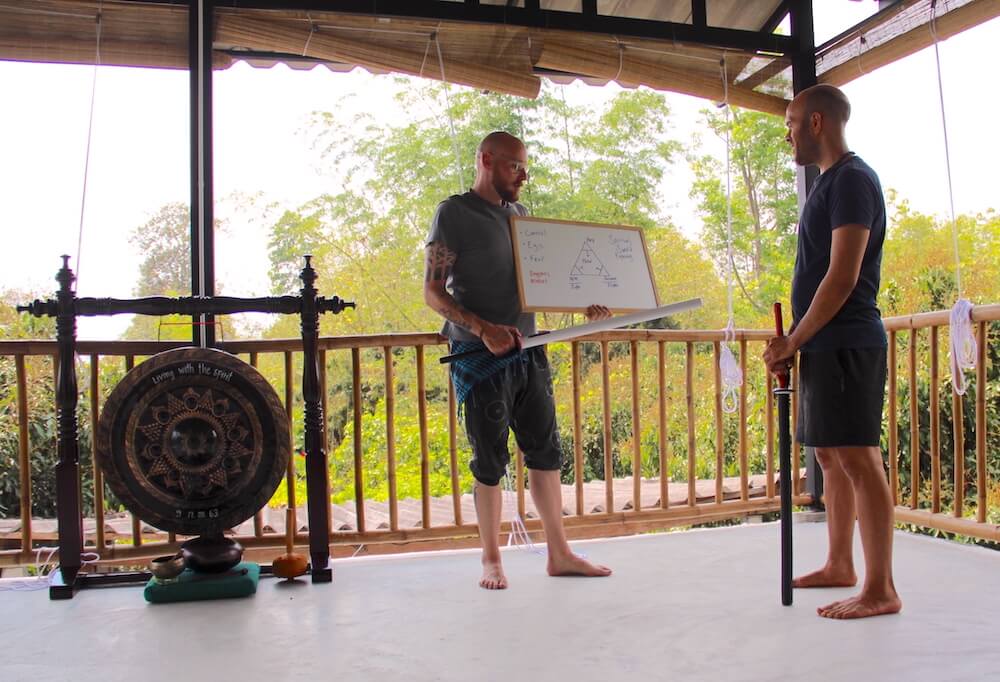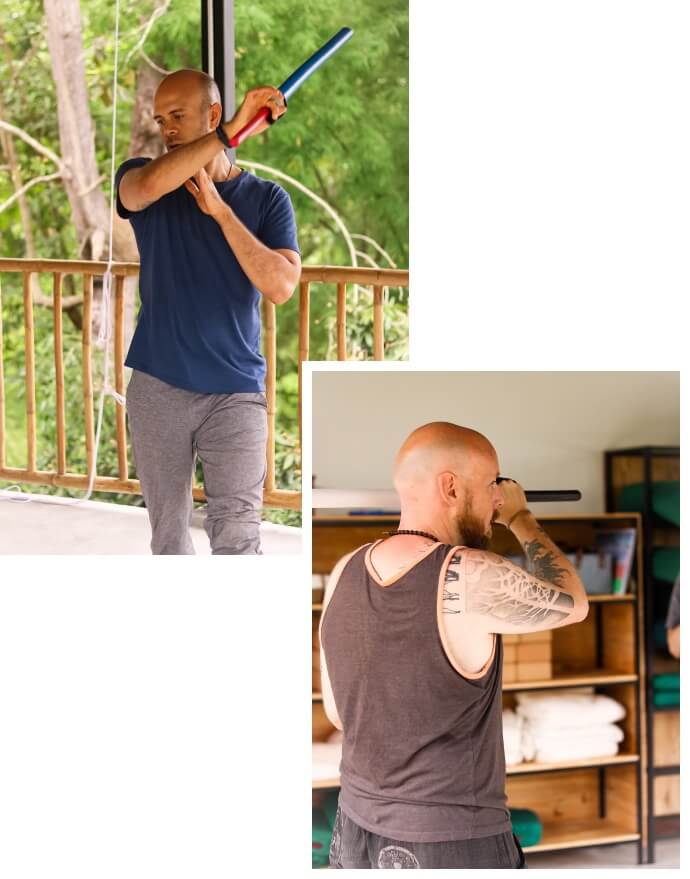 Simba, hailing originally from Sweden
is a Specialist in Holistic Health, with a passion for Stress Release, Emotional Freedom Coaching, and using the body as the natural healer. Growing up with a father who is a master in Kyokushin Karate and Qi-Gong he has trained and competed in many martial arts forms since the age of 7 such as: Abadá Capoeira, Brazilian Jiu Jutsu, Kali Sikaran, Mixed Martial Arts, Submission Wrestling and Kyokushin Karate.
His professional background is in personal training, holistic massage therapy, manual therapy, craniosacral biodynamic therapy, Reiki, TRE, EFT and he operates a specialized treatment center called Living with The Spirit in Chiang Mai, Thailand together with his wife & partner Sara.
Mark, hailing originally from Texas,
trained for many years in the Viking-age steel weapon combat system that historically represents the fighting style of the time, using historically accurate weapons, armor and practices. He also trained in Hong Kong with a sword master studying Eastern fighting styles and the use of Japanese swords. While Mark no longer fights competitively, he sees the benefit of swordfighting as a spiritual practice and a tool for self discovery. Mark has been on his own self healing journey as a former addict and now spreads wisdom and support to others in need. Mark lives at Living with the Spirit in Chiang Mai, Thailand to work full time on healing, recovery and practices the subtle art of surrender.
EXAMPLE 90-MINUTE SESSION
Note: At no point during any session, will participants use steel weapons.
We use certified MMA soft-swords. The instructors will demonstrate the use of
steel swords for dramatization and display of technique only.
Contact us for a consultation to bring Spiritual Swordfighting to you! We offer packaged sessions for groups of up to 8 people.
"If you try to wield the long sword quickly you will mistake the Way. To wield the long sword well you must wield it calmly".
– Miyamoto Musashi