Lifestyle Coaching Packages
SUCCESS IS REACHING OUR POTENTIAL WITHOUT COMPROMISING OUR VALUES
 Holistic Lifestyle Coaching includes defining and manifesting your dream lifestyle requires ways to stay on track. The four pillars of health is used in order to help you maintain desired course and to help you maintain optimal energy levels, joy, vitality and balance between work vs rest ratio.
Dream or general life direction – Holistic lifestyle coaching, intentions defining and setting, goals or dreams manifesting, legacy building, holistic mental coaching, stress and anxiety relief strategy, energy coaching and improving tools for your overall wellbeing. This can be a difficult part of life, specially if you have deep patterns and responsibilities that makes it hard for you to see beyond your current lifestyle. Our ambition is to give you sufficient awareness and intuition so that you can create your desired way of life in harmony with your current one. Or to give you the strength to leap into a new way of life.
Movement – Work-in is the term for leaving a physical regime with more energy than you had coming into the session. Work-out is the term for physical resistance, flexibility, agility, speed, power, endurance, coordination and cardio training as well as skill development. We like to use the term movement culture or philosophy, as movements can be so much more than an exercise regime at the gym.
Nutrition – Nutrition, hydration, feel your bodily needs and macronutrient distribution. Having a natural biofeedback and a positive relationship to your bodily needs for sleep, food, recovery, workout, sexual drive and more. We believe in an organic, plant based diet free from sugar and gluten.
Happiness – Positive thinking, having fun, being with family, friends and pets. Traveling, having a good laugh and taking vacations. A purposeful downtime away from working hours and choosing joy in whatever it is that makes you happy. It's a way of viewing life events using different tools, in order to choose the optimistic way of living your life.
Recovery – Sleep, recovery, meditation, inner peace and me-time. Following the natural sleep-wake cycles, waking up with the sunrise, quiet your mind, learning to cope with worries, expanding your consciousness, raising your vibration, develop and enhance your intuition.
HOLISTIC LIFESTYLE COACHING
Our intention is to create a harmonious and peaceful space for our spiritual practice, physical healing and our energy work. We are creating a holistic community with the tools needed for a healthy and active lifestyle. We provide a safe space for your transformational journey whether it is spiritual, physical, emotional or mental.
We use ancient eastern way of mind-body-soul philosophy together with a modern sport medicine approach, behavior psychology, anatomy, physiology and fascia studies to bring a complete holistic view on your health. To unlock deep emotional and behavioral blockages we use powerful shamanic practices. We merge the old and new in a sustainable way to make you have natural as well as useful tools and habits along your way in life.
We believe in an organic, non-processed, plant based diet free from sugar and gluten. A mix between raw food and lightly cooked food. We also practice intentional cooking to put positive energy into the food and the ambiance around eating in general. It makes for a delicious extra spice!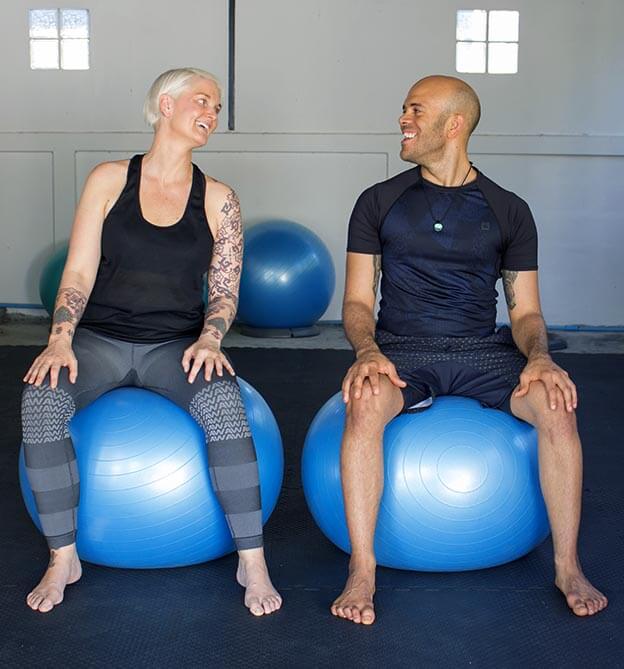 We experiment with herbal organ healing through Traditional Chinese Medicine, herbal tinctures, and natural herbal medicine. Depending on where you are in the healing process we use these form of treatments to boost and clean the organs back to their natural working state. Working from the inside and out to give you the energy needed to make the changes you are looking for.
Our daily practice includes energy work, meditation, yoga, functional movement classes and we set the intentions of reaching a high vibration of heartfelt fun. We believe in the conscious work of remaining in "high spirits" as a natural state in everything we do. This is all more easily realized through our community and the ability to integrate your work at a deeper level in this environment. 
HOLISTIC LIFESTYLE COACHING IN CHIANG MAI OR ONLINE
We start off our lifestyle coaching with an initial consultation. During the consultation we get to know each other better and together we create a suitable plan based on your individual needs. Come visit us in at our center in Chiang Mai or book your consultation online.

Whether you choose to work with us regarding one area or all of the above you can choose to sign up for one session or commit to longer programs. You can choose to work only with one specific part in any of our programs or incorporate several aspects to enhance your health. One session lasts about 60-70 minutes, at the end of each session you will get some advices and/or a email summary sent to you depending on your needs. We offer single sessions or packages of sessions, you can choose from 1, 6, 12 and 20 sessions. We also have a monthly membership option where you create your own membership program based on your needs and your budget.
One single session is 45 USD or 1500 THB.
Our 'Welcome package' includes 5 sessions and is optimal for you who are looking to get started within the holistic way of life or if you have limited amount of time to work with us. This package usually lasts about 1 month with 1-2 sessions per week and serves as a good base for your future practice.
In our Welcome Package we include :

5 sessions of your choice.

1 initial assessment for the best suitable starting point of our work together.

1 Customized Holistic Practice Plan.
Our Deep Dive package includes 10 sessions and is suitable for you who are looking go deeper on your health journey. This package usually lasts about 2-3 months with 1-2 sessions per week. This comprehensive package allows you to look deeper into your current lifestyle and what changes can be made to create a stronger, healthier, and more vital version of yourself.
In our Deep Dive Package we include:

10 sessions of your choice.

2 assessments for the best suitable for our work together.

1 Customized Holistic Practice Plan.

1 Assessment Follow Up.
Our Lifestyle Package includes 20 sessions and is suitable for you who wish to immerse yourself in a complete lifestyle transformation package. This package usually lasts 3-6 months with 1-2 sessions per week. With this package, we can make lasting changes as we have time to look at any part of your current lifestyle or go deep into your wishes about how you want your life to be.
In our Lifestyle Package we include:

20 sessions of your choice.

Our full Holistic Health Evaluation.

2 Customized Holistic Practice Plans.

2 Assessment Follow Ups.