WHO WE ARE AND HOW WE WORK
what is living with the spirit ?
Living with the Spirit is more than just a holistic retreat center, it reflects a way of living that brings a person into harmony with themselves and the abundant universe that is available to us all. Living with the spirit is a vehicle for the transformation that is needed to help people on a self-healing journey. Living with The Spirit means connecting to your own inner guide, your intuition, your Dharma.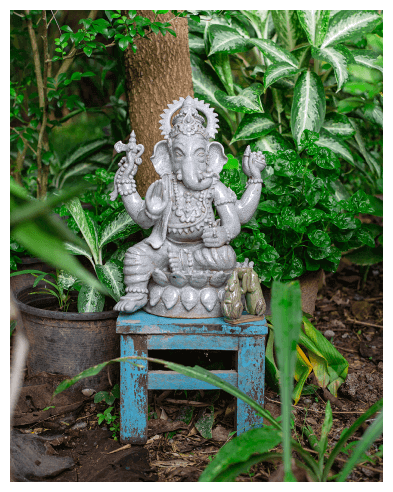 Farm Living For A Healing Lifestyle
Sara and Simba embody the idea of self-healing and use the wisdom of self-healing to help others. By processing their own traumas through holistic approaches, they realized that these methods can be easily employed by anyone who is ready to try. Their hospitality, compassion, and sincerity will welcome you and guide you along your path so that you too may live with the spirit.
At Living with The Spirit we have chosen to step away from the city frequency to enjoy the simplicity of living amongst nature. The Farm is situated in beautiful green countryside between two mountain ridges outside of Doi Saket, Chiang Mai. With the location in a valley, it provides a small jungle sanctuary and peaceful haven where you can relax and recover in harmony with the land.
There's no need to leave the farm to experience a breath of mother earth. Our landscaped grounds provide multiple spaces of tranquility. Discover calm and restoration in a sala, a hammock, or under a tree. Enjoy silent areas for yourself or communal environments with inspiring conversation.
Join Our Community
The farm is ultimately an experience in the art of subtle awareness. At first arrival, you immediately become aware of the serene greenery, relaxing mountain views, and floral landscapes. Then, you tune into the quiet serenity of peacefulness, coupled with the finest hospitality, which slowly starts to warm your heart.  After spending a few days there, a deeper layer is made aware, that allows you to finally let go, un-mask, and experience a state of relaxation, comfort, and harmony.
Stay a bit longer and you may never leave!
We help you do the long term transformation you have always dreamt about. Our community is growing and our network supports you with buying land, architecture, construction, design, and interior decoration. Life gets so much more amazing when we do it together!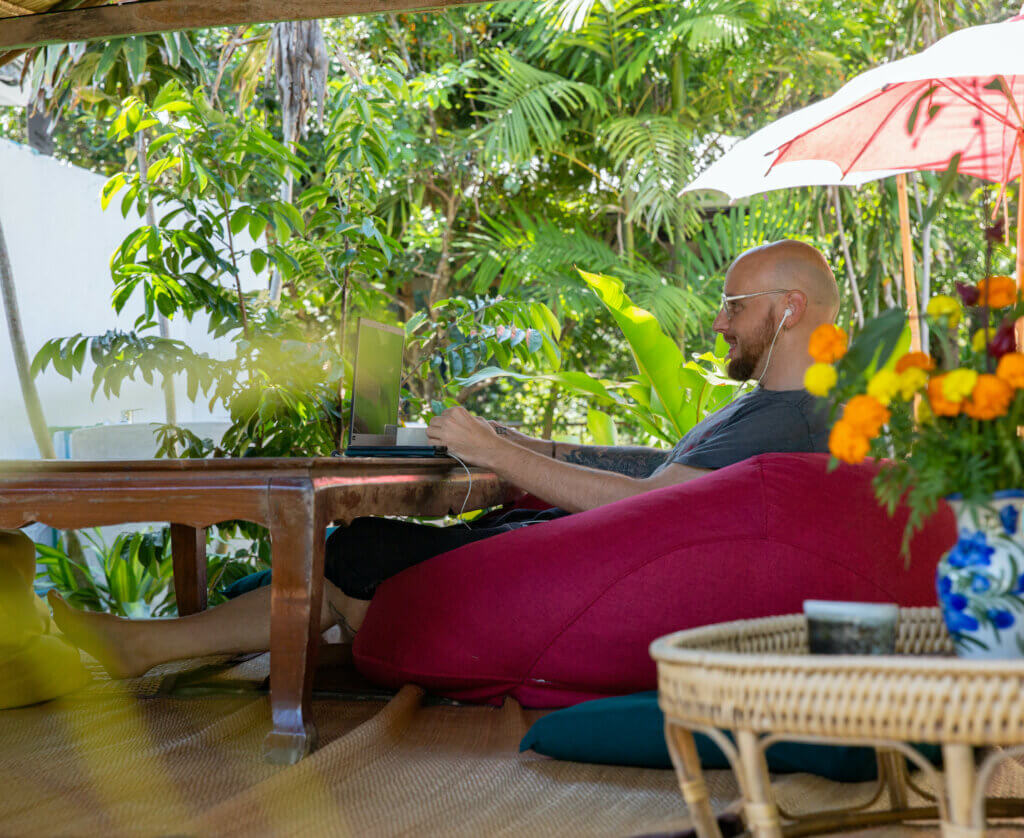 BOOK A FREE CONSULTATION
Book a free consultation with us and find out how
we can help you getting started on your journey.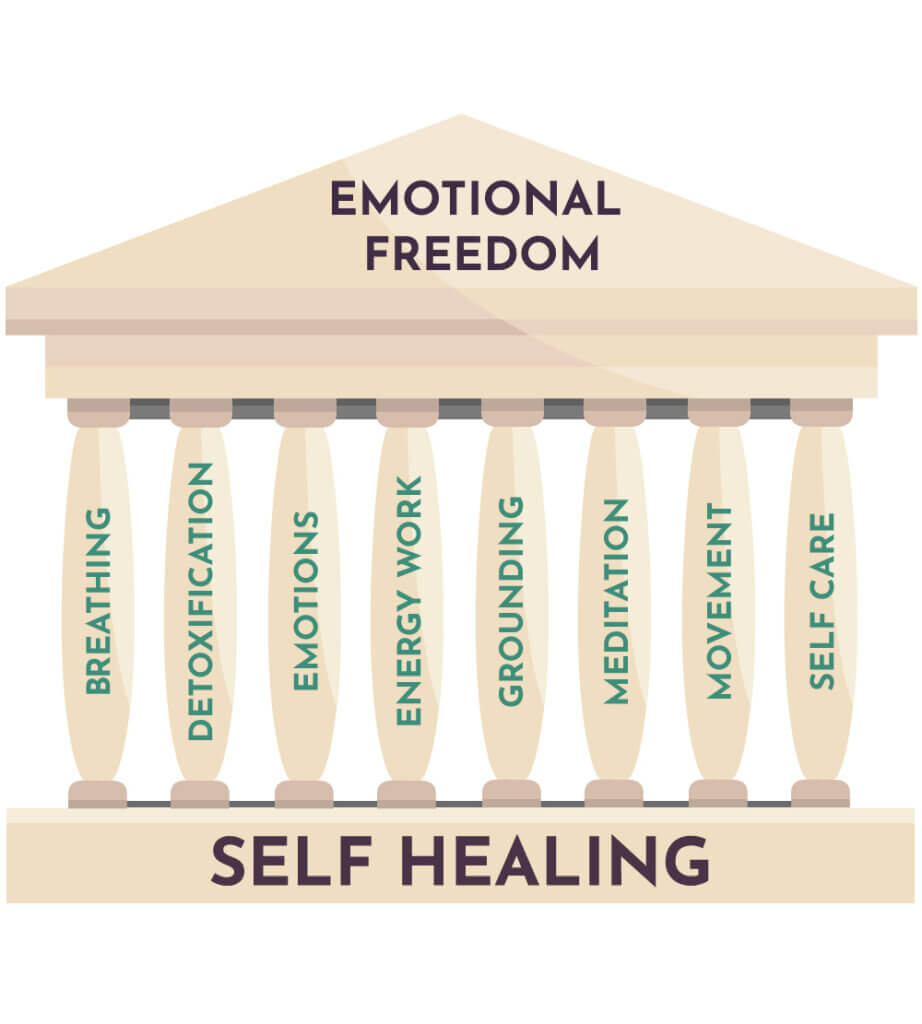 The Living with The Spirit Method
The Living with The Spirit method starts with the foundation of the belief that the body is the natural self-healer. By using a combination of holistic tools and philosophies, we guide you towards emotional freedom and ultimately connect you to your own inner spirit. Our center name is also the essence of our method: Living with The Spirit.

On the path towards Emotional Freedom, we build a sturdy structure of Grounding, Breathing, Meditation, Detoxification, Physical Movement, Emotions, Energy Work, and Self Care.
Living with The Spirit
Working Model
Further elaborates on the Living with the Spirit Method with three levels of practices that we use to guide people towards emotional freedom and living with their spirit.
Our working model further elaborates on the Living with The Spirit Method with three levels of practices that we use to guide people towards emotional freedom and living with the spirit. Our working model is created to realign the body, mind spirit connection to recover from physical, emotional, and spiritual adversities.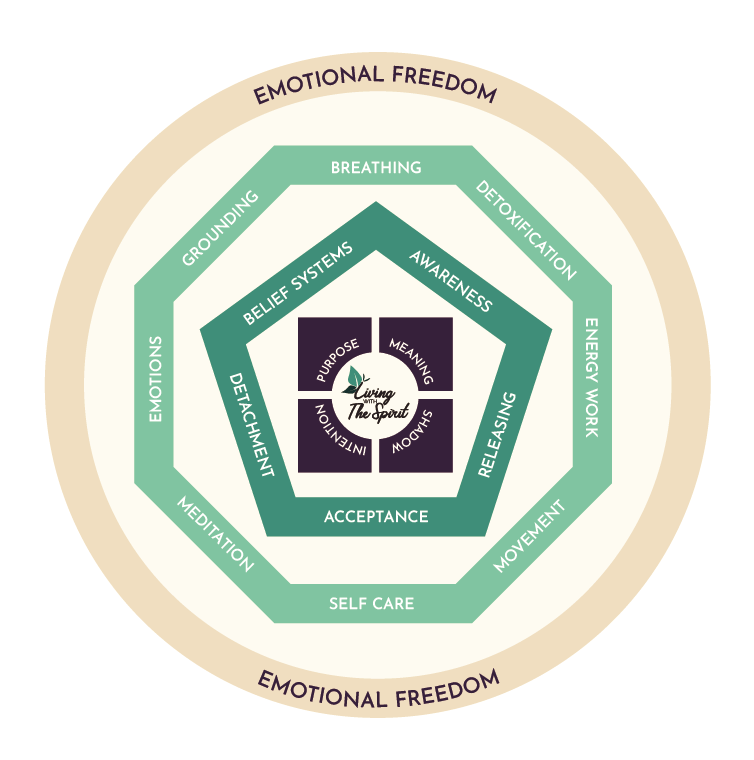 Our Modalities & Practices
To achieve emotional freedom and to start living connected and guided by
your own spirit, we offer a holistic combination of daily practices that include:
Ayurveda Teachings

Breathwork

Chi Nei-Tsang – "Abdominal, organ and emotional massage"

Corrective Holistic Exercise Kinesiology

Detoxification

EFT – Emotional Freedom Techniques




Energy Psychology




Grounding & Self-Regulation




Meditation & Mindfulness



Physical Movement




Reiki Healing




Therapeutic Bodywork




Traditional Chinese Medicine Teachings




Trauma Informed Approaches




TRE – Tension and Trauma Release Exercises




Western Modern Psychology & Behavior Science




Western Sports Medicine




Yin Yoga