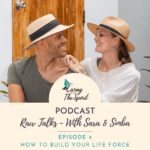 Life Force is a concept describing the running fuel of your body and mind. It is much similar to the fuel of a vehicle, if you run out of fuel…you cannot go any further.
In this podcast, we will share how we teach our clients to successfully raise their life force so they have enough juice to transform their lives and fulfill their purpose in life.
These are the 5 keys stones to cultivate your life force that will be covered in the podcast:
-Sleep & Circadian Rythm
-Nutrition Habits & Detox
-Movement & Physical Exercise
-Morning Routine & Daily Practice
-Grounding & Self-Regulation
Tune in live on YouTube, Friday, January 6 at 4 PM BKK time, or listen to the replay on Spotify or Apple Podcasts.
DM us your questions. Direct links are available in our profile!
Lots of Love,
Sara & Simba