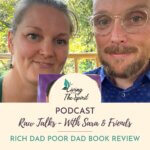 Today we dig deeper into the topic of abundance and become more practical. We are using the book Rich Dad Poor Dad as part of our abundance journey and discuss how it's affected our money frequency moving forward.
The topics that we are covering in this session will be around money frequency abundances such as the general fear around money, the energy game of money, mindset on escaping the rat race, intellectual properties, investments, and we briefly touch upon our latest project The Spirit Collective.
We get a lot of practical ideas and creativity from this book, so we decide to start a project called Spirit Collective to help people live more consciously and to create space for them to live their best lives.
We'd love to hear your thoughts on the book from those who have already read it!
Here is a link to the book: https://amzn.to/3rwj7Ww