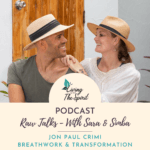 This week we have a special guest, our breathwork teacher Jon Paul Crimi. Together we will deep dive into the topic of transformation, what qualities will propel you forward in your life, and the ups and downs of being a teacher.
About JP: "I'm a guy who needed to make massive changes in my life in every area you can imagine. I've struggled with all of it: alcoholism and addiction, relationships and sex, anger management, poor self-esteem, and low self-worth. I tried every form of self-help and meditation practice available, and none of them could quiet my noisy head – until I discovered Breathwork.
It incomparably delivers in ways no other meditation practice ever has and it's done nothing less than utterly, completely, and permanently change my life and perspective for the better. I guarantee you that you will feel results in your very first breathwork session or class. It's undeniable.
It's easy: if you want results, you must make the effort. Nothing changes if nothing changes. If you want something different, then do something different."