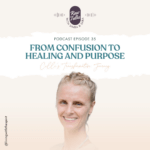 In this heartfelt podcast episode, join us as we dive deep into Celle's inspirational journey of self-discovery, transformation, and healing at Living With The Spirit retreat in the serene landscapes of Northern Thailand. Celle shares her experiences, insights, and revelations from her time at the retreat and discusses her decision to enroll in the mentorship program and the TRE (Tension and Trauma Release Exercises) program.
Discover how Celle's commitment to self-improvement, trust in herself, and insatiable curiosity propelled her forward on a path of healing and self-realization. Explore the profound impact of Living With The Spirit's holistic approach to healing and personal development, and gain insights into how Celle is evolving as a practitioner and healer.
Join us for this inspiring conversation that reminds us all of the transformative power of self-discovery and the importance of embracing our true purpose in life.