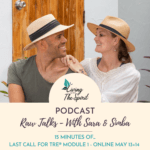 Allow TRE® (tension/trauma release exercises) to change your life and access deeper states of grounding, allowing for a deeper awareness of how to solve your life's most significant challenges. TRE® is a highly recommended treatment for men and women suffering from fatigue, stress, trauma, stored emotions, and negative behavioral patterns. TRE® activates the body's natural self-healing mechanisms and deeply regulates the autonomic nervous system. In this 15-minute episode, Mark and Sara share their most significant results and benefits of incorporating TRE® in their personal practice.
-Deeper states of awareness and grounding
-Mental clarity and focus
-Bodily safety to work on deep issues and emotional blockages
-Comfort in your own skin and curiosity to explore bodily movements
Welcome to our TRE® Module 1 – Online May 13+14
In this module, we focus on getting to know yourself more deeply by understanding the polyvagal theory and how it affects your everyday life. The main goal is for you to feel safe to start using TRE® by yourself in your personal practice. 
TRE® Module 1 is perfect for you who:
-Wish to learn how to practice TRE® safely by yourself and include it in your personal practice 
-Want to have a deeper understanding of your Autonomic Nervous System
-Want to learn more about Grounding & Self-Regulation