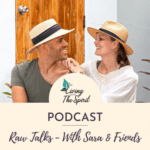 The pilot episode of our Living with The Spirit Podcast is up for review on Apple. Our guest for this pilot episode is Sara's brother Erik and we talk about "What is Spirit?" and why did we choose this name. What does Living with the Spirit mean? Are we a cult or religious group? Are we enlightened? 
We have no prior experience of running a podcast so we are playing around with sound and location so bare with us. We will focus on having fun, hope you will too.
We will let you know when we are up and running 😀
Heart Work Pays off!
Sara, Simba & Friends